World's Largest Skinny-Dip Saturday July 11
The Guinness Book of World Records has established a new category of most people ever skinny-dipping at one time. So on Saturday, July 11, at 3:00 Eastern Nudist Time, clubs and beaches across North America will be counting the people in the water.
It's all part of National Nude weekend, so we are expanding our annual Open House to two free days--Saturday and Sunday. Because it is a two-day event, several people are talking about camping over. Saturday's dress code is:
10-11 clothed
11-1 clothing-optional
1-4 nude
Sunday's schedule is the same, but without the clothed hour.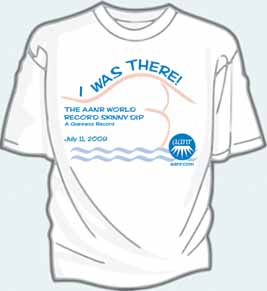 We still need more people (preferably couples) to sit at our welcome table for an hour on one or both days. If you can help, mention it to Grant or Paul.
The press has been invited--but not during the world record swim. (If they come at all, it will be during the clothing-optional hours.) We are required to document the event with a photograph, but those who wish can turn their backs to the camera. That picture and signatures on the official form will be seen only by the AANR office and the Guinness people. We are also required to have two witnesses--who may or may not be nude.
AANR has designed commemorative T-shirts, which can probably still be ordered at the event.
We will have lots of old nudist magazines for sale all weekend. And there will be light refreshments. Come out both days, or camp over. Be a part in the making of history.
---
A Reminder on How Our Fees Work
We picked up several new members last fall, when membership was half-price for the remainder of our year (which begins April 1). Some of those people also paid a year's grounds fees--which expire one year later. But by April, a few had forgotten the fine print, and expressed surprise when asked to renew their memberships.
Most nudist clubs charge two fees--a basic membership fee, plus a variety of plans (daily, monthly, annual, evenings) depending on how often people want to come. In our case, the $45 membership buys you a vote, the gate combination, newsletter notification, and reduced lake fees. That income covers our routine operating expenses, such as postage, printing, supplies, picnics, etc. The lake fees pay the rent.
There is no agreement on when those two fees should be paid. Clubs with a large bookkeeping staff working 365 days a year can bill each member for everything on the anniversary of his or her joining. Seasonal clubs farther north find it most convenient to have all bills come due at the beginning of spring. But that requires a complex table of pro-rated prices for the month of one's joining--or reinstatement later. (At the national level, AANR accepts pro-rated fees; The Naturist Society does not.)
For us, with no office at the lake, it works best to do a little of both. Collecting the membership fees at the beginning of April wipes the slate clean, so we can change the gate combination, if needed. Because our numbers are small, collecting annual lake fees on their anniversary is easier than publishing a pro-rated chart for regular members, plus another chart for students. This way also makes it easier for people to pop a check in the mail with no question about the proper amount.
Some people really appreciate having their payments--for club membership, annual grounds fees, AANR, and/or TNS--spread out over the year. Others prefer to pay in advance with one check and be done with it. We will accept your money either way.
---
We Got a Lot of Work Done
A big thank-you goes to all of those who came out on National Nude Gardening Day to help spiff up the lake.
Paul C. and Larry did the heavy work of digging a ditch to drain the flooded woods. Michael and Aaron later came to assist them. Over the next few weeks, the same people, plus Chris, Paul L., and Bruce, deepened the ditch and buried the drain pipe.
Another crew was trimming, carrying, and burning brush from the area burned over a couple of years ago. Paul L., Jim, Shauna, Bob, Robyn, Holly, Chris, and Luke all did their parts.
Meanwhile, Bruce and Bob were splitting the large pile of firewood. We had tacos afterward.
We didn't get to the many dead branches and shrubs on the east side of the little pond. Anybody looking for a way to help the club can still carry them out and burn them.
---
Greek Athletics Got Down and Dirty
Three days of heavy rain converted our long jump pit and our wrestling pit into mud bogs. But the day of the competition turned out gorgeous. The number of competitors and spectators was slightly lower than usual, but we had a great time. (It's a good thing we didn't postpone the event, because on our rain date a week later, half of the field was under water.)
Kevin from FSU won the male athlete crown. A. J. from FSU emerged as clear winner in the male non-athlete division. The women chose to avoid the mud and just watch this year. For the third year in a row, FSU students won all the prizes.
The Independent Florida Alligator in Gainesville ran stories before and after the event. One reader wrote in to the newspaper, asking for a breakdown by ethnicity. We had never noticed a strange coincidence: In all the years we have been doing this, every winning male athlete has been black, American Indian, or Hispanic. At the same time, every male non-athlete victor has been white. Our female champions have also been white. The competition has of course been more mixed. Likewise, this year the second- and third-place finishers among the male athletes came from colleges in Georgia and Ohio; but only one student affiliated with an out-of-state college has ever won a victory crown in our competition (and she lived in Tallahassee).
As usual, Paul explained the ancient methods and philosophies. Frank and Steve provided the most thorough athletic coaching we have ever had. And Kim again filmed those willing. We hope to eventually edit those films together into a representation of the complete event.
A few days later, on April 1, the newspaper at the University of North Florida ran the following story:
A Nude Direction‑-Ospreys Embrace Ancient Tradition
by John Weidner, Sports Editor
Throughout the history of man, the world's greatest athletes have shared one thing in common at birth: nudity.
Lately, it appears as though the sporting community has taken notice and begun an attempt to revive a passion for its common bond. The sports community at UNF, and across Florida, is a big part of the athletic community looking to gain an edge from losing their clothes.
Although public nudity is currently illegal, it was once a common part of everyday life in the world of sports. Athletes at the original Greek Olympics traveled from all across the known world to participate in events such as wrestling, the javelin throw and running in the nude.
Today, students who enjoy the pleasures of nude sports are trekking to Florida to get their yearly fix. College students have been gathering near Monticello, Fla., for 14 years to recreate the events of the pentathlon in honor of their athletic ancestors.
The event, which occurred March 29, is sponsored by Tallahassee Naturally and is the oldest continuing nude college event in the nation. Although the groups compete outdoors with just the bare necessities, they refer to themselves as competing in a gymnasium, which is the ancient Greek word for a "place of nakedness."
Recently, this movement has appeared to spread from the gymnasiums of the world and onto college campuses.
In the month of March, UNF baseball faced a new form of entertainment to draw crowds to their games: streakers. The March 24 game at Harmon Stadium vs. the University of Florida featured the largest crowd in UNF baseball history-–3,194-–and the first streaker of the 2009 season. After the streaker was arrested, another UNF student took on the role when the two teams met again in Gainesville March 25.
Other sports have felt the impact of the nudity movement at UNF including track and field–-the sport with the closest link to the Olympians of the past.
"If nudity was good enough for the ancient Greeks, then I see no reason why we shouldn't go au‑natural," UNF track and field head coach Mark VanAlstyne said.
The track team is looking to embrace the nude trend and believes nakedness can bring it several competitive advantages.
"Nudity is a big boost to the level of athletic competition," freshman runner Cameron Dickerson said. "It gives me a huge sense of freedom and helps take me to that next level."
Other UNF runners are already beginning to prepare for the transition. Sophomore runner Will Pearce began the slow process of cleansing himself of the hindrance of clothing by running the last quarter of a mile of the 5000‑meter race at the FSU relays with only one shoe on.
"You definitely would be able to run a lot faster," Pearce said. "I lost at least a quarter pound of dead weight from taking off one shoe. Think of all the possibilities with no weight at all."
With all the benefits of nudity, UNF's runners see the trend spreading even further in the future.
"I'm hoping it's something that will catch on," Dickerson said. "Athletes are ahead of the curve. Eventually everybody will be going to class and out to eat naked."
However, the coach has doubts about how far the trend will spread.
"Some people might not be able to make the transition very well," VanAlstyne said. "I imagine hurdlers could run into some pretty painful problems."
Pearce is part of a group that recognizes these obstacles but is advocating the amount of limitless potential for the movement.
"I definitely understand how a lack of support could be a problem for some people," Pearce said. "But this is all a part of the huge liberal movement that is going on in our country. Someday some fashion designer will be brave enough to come up with the radical idea of reviving clothing, and it will all be a part of a cycle. All I can tell you is that this is the beginning of something big."
UNF Editor's Note:
Although this movement may be on the edge of taking over the trends of popular society (the nude Olympics was a real event that elicited coverage from the Spinnaker in March), it will be a while until anything comes of it. Until then, the nudity movement at UNF was born and died April 1, 2009. Happy April Fools'.
---
Our Wish List Continues to Shrink
Thanks to Michael and family for the new white tables and beach lights for the full-moon swims. Gus donated an axe. But we still need these:
badminton net
games and toys
gardening tools--fork, hoe, grass sling, saws
a few more kitchen utensils
broom & dustpan
swing set
pair of handheld weights for Greek athletics
And don't forget that it's not too late to get a building named after you. We now know exactly what each new building cost: $1,034.95 for the pavilion, and $849.22 (plus a lot of work) for the storage shed. We will gladly name either building after any member who underwrites the cost. Where else can you get a building named after yourself for so little? Smaller donations are also welcome.
---
Announcements
The lake will be open normal hours on Fourth of July weekend.
The gate has been left unlocked a few times lately. If you are the last member to leave, any non-members must park their cars outside the gate before you lock up. They are welcome to walk back in and stay longer, but you need to make sure that gate is locked.
We still need hosts for the July and August picnics. If you are interested, speak to Grant or Paul.
In Memoriam
Edwin Sealy
1947-2009
Ed's chicken farm didn't let him come to the lake very often,
but when he did, he was full of gung-ho enthusiasm.
He sat through board meetings.
When our AANR membership fell low, he joined.
When there was a picnic, he and his wife brought enough to feed everybody.
His cheerful eagerness will be missed.
---