Celebrate Our Freedom July 4
Celebrate our freedom July 4 with a tour of the sinkholes south of Tallahassee. Back in the day before we rented land, we visited the sinkholes nearly every week. Then access was blocked off for a few years. Now we can get to them again, but few people go there any more. Sometimes the icy cool sinkholes have rich reddish-brown water. At other times, they are clear, and you can see hundreds of feet to the bottom.
We keep track of the status of the various sinkholes. Read more the about the status of the sinkholes.
On the Fourth of July, we will meet at 10 AM at the northwest corner of Springhill Road and Capital Circle SW. (Thatís across from the northeast corner of the airport. From the FSU stadium, come straight south.) Expect to walk about three miles through the woods that day, and swim in up to six sinkholes.
The lake will also be open at noon on the Fourth of July.
---
Come to the Open House July 13
As part of National Nude Weekend, we offer our annual Open House on Sunday, July 13. Admission is free, though we will gladly accept contributions to our Legal Fund or the Land Fund.
Dress code for that day is:
10 to 11 clothed
11 to 1 clothing-optional
1 to 4 nude
Guests are invited to come for whichever part of the day they would feel most comfortable, and stay as long as they like.
Because this is an election year, we have again invited political candidates to come and chat with voters during the clothed hour. We strongly encourage our members to come during that time (even if you have to wear clothes) and show that we care about nudity laws. (Consider each piece of clothing an ounce of prevention. Itís worth the hardship.)
Besides swimming, sunbathing and hiking the nature trail, we will have equipment set up for volleyball, badminton, and horseshoes. Our club scrapbook, brochures, and bulletin board will also be on display. We will have lots and lots of old nudist magazines on sale real cheap. And thereíll be cookies and watermelon to eat.
Some people may be camping out Saturday night. Come and join the fun.
---
Busy Beavers at Work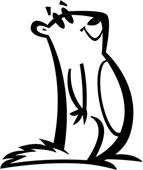 Actually, itís not beavers that have been cutting down all the dead trees from last yearís fire. Bruce has been playing Paul Bunyan weekend after weekend. Gene and Deana have sometimes helped. That job is nearly done, so we wonít have to worry about dead trees crashing onto campers. This fall, we plan to put up a windbreak in the cleared area.
On May 3, we celebrated World Nude Gardening Day with a work party at the lake. We widened one end of the parking lot, hacked palmettos out of the nature trail, cleared dead underbrush and small trees from the burned-over area, and threw the ash heap with nails and glass into a gully where no one will ever drive. Special thanks go to Bob, Chelsea, Jim, Bruce, Shauna, and Paul. In honor of Cinco de Mayo, we finished the day with tacos.
Also, Jim and Donna were able to make it out to the lake for the first time in years. Jim made and donated a bench in gratitude for our carrying them on the membership list during Donnaís long illness.
---
We Made Our Last Beach Trip
Year after year, we have scheduled a nude beach trip for the Saturday before Mothersí Day. Last year, we didnít go because we were busy cleaning up after the fire at the lake. This year, Shawn, Kiki, Paul, and Shauna went. We wonít schedule another trip in the foreseeable future.
When we started wading to the island more than twenty years ago, the first half was thick with huge pines and Yaupon Holly. The last pine tree still stands with its surface roots ten feet in the air. Only a few spits of sand remain--way too visible from the main beach. Because it was an overcast day, we were able to spend a few hours there before too many other people showed up.
We had always gone to the isolated sandy beach at the far end. Hurricane winds cut the island in two a few years ago. That cut has been widening and deepening. The far end still looks good through binoculars, but it is no longer practical to get there without a boat.
It was a nice beach for all the years that it lasted. Let us hope that Mother Nature someday changes her mind and piles new sand where she took it away.
---
Nude Housecleaning Business Almost Started
Scott has abandoned plans for In the Nude Cleaning Service, an after-work enterprise, that would have given a whole new meaning to moonlighting. Nude house cleaners are more common in the Tampa area. (In fact, one woman made headlines a couple of weeks ago when she managed to also clean out the family jewels. Police couldnít figure out how she did it without pockets.)
You know Scott. Thatís his backside you see every time you click onto the club web site. He joined us in 1999, and has been in and out of town ever since. He frequently attends our Full-Moon Skinny-Dips, and we have bumped into him at a couple of Naturist Gatherings. Scott also paints nudes. After two months without any housecleaning customers, he decided to give up the business dream, and concentrate on his art career.
Scott tells about the venture in his own words:
ďMoney is getting tight and my nights were free, so I decided to see if I could actually get a few clients who wanted a clean house and good conversation. I had all the cleaning equipment and I enjoy cleaning houses.
ďIíve talked to numerous women in Tallahassee and surrounding areas, and Iíve concluded that women in the smaller towns are more receptive. Most of my contacts in these towns seemed like they were really interested, or at least knew someone that would be. Tallahassee was difficult. The ratio of interest dropped dramatically. However I found some very nice business owners here that were open to me leaving stacks of business cards, but had no use for the service. On the whole, some women I thought were going to be interested definitely were not and vice versa.
ďIt all came down to: Is there really a market here for a nude cleaning service? I say ďno,Ē but at least I gave it a try. I figured while I was still somewhat attractive I better try it. Maybe the lesson to be learned is this: Most people are friendly to a social nudist culture--just not in their house.Ē
---
Our Wish List Is Shrinking
Thanks to the generosity of members like Joyce and Bruce, equipment keeps showing up in our storage shed.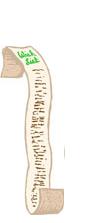 We have replaced most of the things lost in last yearís fire, but still lack these:
folding stand
badminton set
games and toys
books--including children's books
gardening tools--axe, fork, hoe, grass sling, saws
broom & dustpan
small mower for maintaining the nature trail
swing set
pair of handheld weights for Greek athletics
And donít forget that itís not too late to get a building named after you. We now know exactly what each new building cost: $1,034.95 for the pavilion, and $849.22 (plus a lot of work) for the storage shed. We will gladly name either building after any member who underwrites the cost. Where else can you get a building named after yourself for so little? Smaller donations are also welcome.
---
Announcements
The June Full-Moon Skinny-Dip was the biggest ever--28 people. And thatís not counting the six picnickers who showed up after it was all over and left a mess behind. Thanks go to Shauna and Steve for cleaning up after them.
The Canadian nudist magazine, Going Natural, has an article in its summer issue partly about Paul, and partly about our club. Unfortunately, the editor listed Paul as the author, and put bragging words in his mouth that he never, said. So while he is embarrassed, the club comes out looking OK. The emphasis is on our ability to attract college students.
If you are the first one in, leave the gate open, but be sure to snap the padlock shut again so it doesnít walk off. We have lost a few that way. If you unlock the building, please scramble the combination, so non-members canít learn it.
When sitting at the picnic table, butts belong on the benches; feet belong on the ground.
Donít forget that we have AANR and Naturist Society guidebooks to nude beaches and clubs on sale at the lake.
---