In this Issue
Days to Remember
July
4: Sinkhole trip

8: Board meeting

14-15: National Nude Weekend campout

15: OPEN HOUSE & Board meeting

27: Full-Moon Skinny-Dip

29: Picnic & seminar
August
5-12: AANR Convention, Willametans in Oregon

12: Board meeting

24: Full-Moon Skinny-Dip

26: Picnic. Richard will host.
September
1-3: Back-to-school campout

3: Lake open Monday

9: Board meeting

21: Last Full-Moon Skinny-Dip

30: Student Activities & Picnic. Wendy will host.
Tallahassee Naturally is a non-profit organization dedicated to the advancement of naturist recreation in north Florida and nearby areas. The club is an affiliate member of both the Naturist Society and the American Association for Nude Recreation.

Bare and Free is the official Newsletter of the Tallahassee Naturally Club. Articles appearing in Bare and Free may be reprinted by other naturist publications, provided that credit is given. Photos, however, may only be reprinted with written permission.

Club members are encouraged to submit , articles news items, and photos for publication. Please address all submission to: Tallahassee Naturally, P.O. Box 6866, Tallahassee FL, 32314 or To the Editor, 502 Airport Drive, Tallahassee, FL, 32304 or smithj7@peoplepc.com.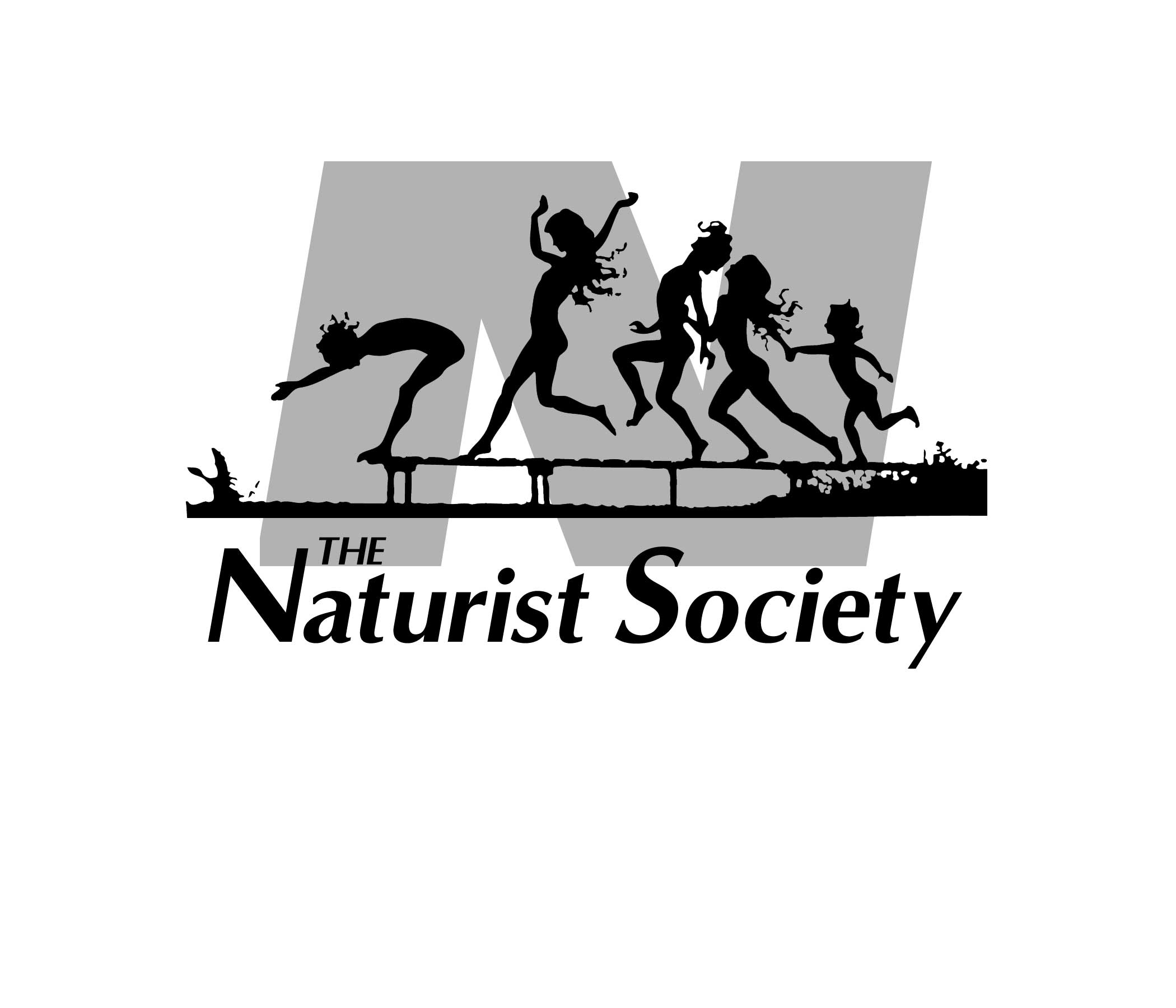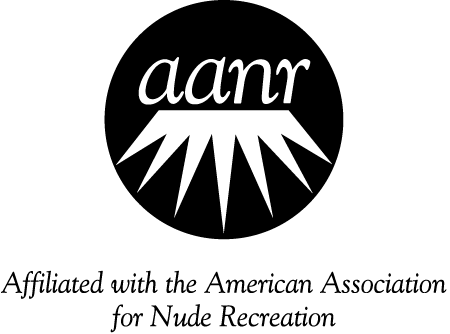 Open House July 15
Celebrate National Nude Weekend at our Open House on Sunday, July 15. If you haven't been out lately, this will be your opportunity to see our new buildings.
The dress code for the day is: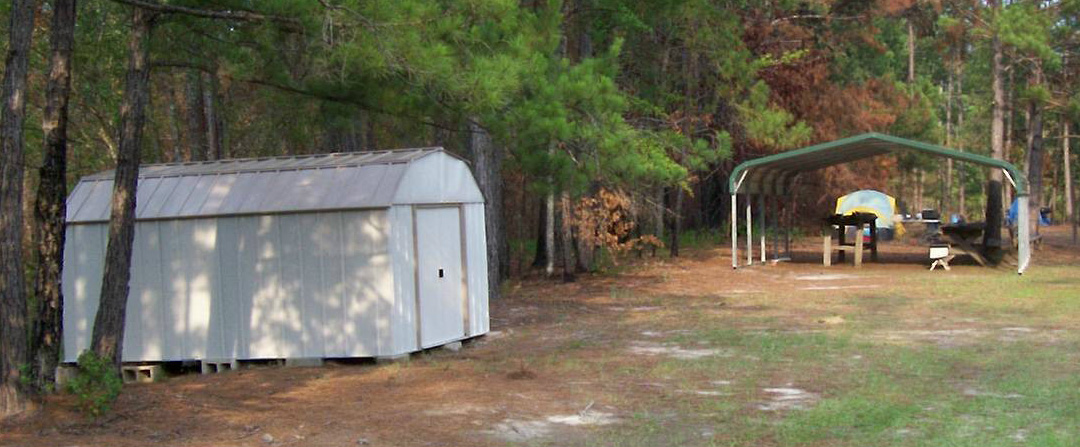 Invite your friends to come out whenever they would feel most comfortable, and stay as long as they like.
Admission is free, though donations to our Legal Fund and Land Fund are encouraged. The Legal Fund is especially low at this time.
Because our floats all burned up in the fire, we also encourage you to bring some for your own and others' use.
---
We Rebuild After the Fire
In the evening of Sunday, April 29, the old building at the lake burned to the ground. After we locked up that afternoon, someone who knew the combination entered the grounds and the building, leaving everything wide open. We still don't know whether the fire was accidental or arson. The grass for a long stretch east of the building and the woods to the north were blackened, but most of the big trees should survive. The main lawn, beach, and picnic area remained untouched. So did the campfire area.
The building and almost everything stored in it were a total loss. We still need to refurbish supplies. Refer to our wish list to see if you can help in this process.
The next Sunday, club members gathered to haul off many truckloads of debris. Special thanks go to Bob who made lots of trips to the recycling place, and to Wayne who brought his big trailer. Gene, Bruce, Chelsea, Shauna, Paul, Grant, Cliff, and Wendy helped with the cleanup. And you wouldn't believe the trash we found behind the building that had been buried under the pine needles all these years: 8 bags of bottles and another 6 buckets of broken glass.
At our membership meeting on June 3, we decided to put up two portable buildings: a picnic pavilion and a storage shed. The pavilion came with free installation, and went up June 18. We tackled the do-it-yourself storage shed on June 30 and July 1. Bruce's expertise with assembling sheet metal came in handy. So did Bob's height when it came to roof construction. Chelsea and Paul helped both days; Gene, Dena, Shauna, and Rob helped one day. (Is anyone noticing familiar names here?)
Gene and Dena couldn't come back the second day, because they were in the hospital having a baby. We welcome our newest member, Heather.
Meanwhile, drought had dropped the lake level to the lowest we have ever seen. We found ourselves walking in muck far beyond the traditional swimming area. So Chuck donated a load of sand, and on June 10, (you guessed it) Bob, Bruce, Paul, Grant, Trevor, Chuck, Cliff and Greg J. carried it out in buckets. We doubled the size of the swimming area.
If anybody else would like to help, we still need to chop out the dead brush, so we can mow the burned-over woodland and keep it more parklike.
Your board of directors has held many meetings and e-mail conferences putting this recovery effort together. They have been doing a whole lot more than they signed up for when we elected them. In fact, there has been no spare time for getting out a newsletter; we have been doing most of our urgent communicating by e-mail. Also, when you see them, be sure to thank the handful of reliable volunteer workers who put in many days getting this club back on its feet after the fire.
---
Get a Building Named After You
The club is accepting substantial donations to help offset the cost of the new buildings. If anyone is willing to underwrite the entire cost of either building, we will name that building after you. It can forever after be known as the Jones Pavilion or the McGillicuddy Storage Building. Where else can you get a building named after you for less than a thousand dollars? Check with Paul for details. We are also gladly accepting other donations of any size--and especially thank Richard for his generosity.
---
Our Wish List
We have already received donated chairs, folding tables, and file cabinets. Many other things lost in the fire must be replaced soon. Do you have any of these items in your attic or garage? If so, bring them on out. Or if they require a truck, let us know.
big metal cabinet for storing picnic supplies

2 card tables

folding stand

picnic and serving utensils

dishpan

first aid kit

trash barrel

buckets for putting out fires

volleyball

badminton set

games and toys

bookshelf & books--including children's books

folding lounge chairs

floats and/or innertubes

gardening tools--axe, shovels, mattox, fork, rakes, hoe, grass sling, brush snippers, saws

broom & dustpan

small hand tools--hammer, wire cutters, etc.

small mower for maintaining the nature trail

swing set

pair of handheld weights for Greek athletics
---
We Have to Close Down in Winter
Our landlord died early this spring. His sons have grandiose dreams of tripling their income by renting the lake to hunters during the winter. Since we cannot triple our fees, we had no choice but to give up the lake during November, December, January, and February. We will be open seasonally (March through October) like most clubs farther north. Occasional house parties may be an option. If you are set up to host one, please let our board members know.
At the same time, our rent jumped by $100 a month, so that we still end up paying a little more for a shorter year. At our annual meeting in March, we will probably have to consider higher fees.
---
The summer issue of Nude & Natural contains the early history of our club. The fall issue will continue with our more recent adventures in political activism, innovative programming, and the ongoing search for land.
In the May Bulletin, a college student in the Midwest cited our club as the ideal in student policies and programming that all clubs should aspire to. Someone else wrote a letter to the editor in July, repeating some of that same information without mentioning us by name.
Dick Sargent of Tallahassee skinny-dipped as a kid, but is no nudist today. He writes good stories. We were able to refer him to Naturally magazine, which printed "Swimmin' Bare at the Possum Hole" in the summer issue. The magazine also features Paul's regular column on nude art. (By the way, Paul will talk about collecting nude art at the brief seminar following our July picnic.)
---
It's AANR-Florida Now
For the second year in a row, our club led the resistance to abandoning the name of the Florida Association for Nude Recreation. As expected, we could not hold back the wheels of conformity this time, so the new name is American Association for Nude Recreation, Florida Region.
In June, Paul and Doug attended the Florida convention at Paradise Lakes, where Doug now lives. Paul's nomination of former FANR president Shirley Heaton to the new FANR Hall of Fame was successful. (Shirley is the black woman with white hair in the AANR Women's brochure; she also edited the 75-year history of AANR last year. The Bulletin ran a big feature article on her in January.)
Shauna spent convention week at Cypress cove with about twenty other young people in the AANR Youth Ambassador program. She came back with new confidence, and will take an active part in getting the word out to more people of student age.
---
Vote for Springfield, Oregon
You have probably heard that The Simpsons television program will soon release a movie with a fully frontally nude Bart. But did you know that Homer's new job will be at a nudist resort? All of this takes place in their hometown of Springfield. But there are lots of Springfields in the country. Which one? Promoters of the movie are sponsoring a contest to pick the state.
AANR is urging members to vote for Springfield, Oregon--the only Springfield in the nation with a nudist resort. In fact, that's where the AANR convention will be happening in August. But there's a catch: To vote you are required to watch a few videos provided by the cities competing. It took about 5 minutes for every 32 seconds of video using dial-up. So its best to find a connection other than dial-up to enjoy the videos without extensive waiting.
Cast your vote at http://www.usatoday.com/life/movies/simpsons-contest.htm . The deadline for votes is July 9th.
---